Balled and Burlap Trees
Our trees are dug with an Optimal tree spade  that digs a 44″ wide ball for bigger trees or Vermeer tree spade with a 30″ wide ball for smaller trees. We set the tree ball inside a burlap and wire basket to ensure a tight root ball to avoid cracking the root ball.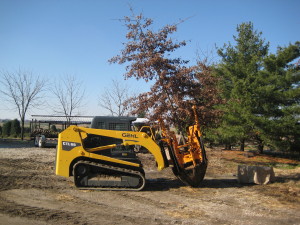 Digging: When is it best to transplant?
We usually dig (weather permitting) from November through the end of March while the tree is dormant. When the tree is actively growing transplanting any tree will cause it to undergo a great deal more stress than if it was dormant. With the proper care your tree will survive and thrive!
We sell at wholesale prices, so we cannot offer any kind of warranty. We first confirm when you would like your tree before we dig to give it the best survival rate possible.
Price
You can get an idea of what our trees look like by visiting our varieties page.
*All trees have a minumum charge of 4′. We will dig a 3′ tree for the 4′ price.
White pine:  $14/ft.
Norway Spruce: $17 per ft.
Blue Spruce: $20 per ft.
Field fir: $22 per ft.
Balled Cyprus (12′-15′): $150
Oak Trees: $150/tree