Hayrides
Hayrides start the September (23rd and 24th) and run through the last weekend in October. They are from 10-5 on Saturdays and 12-4 on Sundays. NEW hours for 2017 in October – Tuesday-Friday @ 4 & 5 p.m.
Cost to the patch with a small pumpkin included (that you can pick yourself) is $7/age (13+) and $6/age (3-12) (under 3 is free.) You can make it a combo and get lost in our maze for $2 more per person.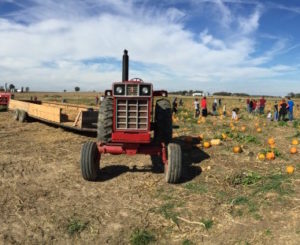 Corn Maze
Are you up for a challenge? Can you find your way out? If you want an even larger challenge you can find all of the questions and answers that are hidden in the corn maze! We keep your completed answers and you are then entered into a drawing for a prize!
Cost is $5/adult (13+) and $4/child (3-12) (under 3 is free). *Children must be accompanied by an adult. Please read the corn maze rules here!
Barn Slide
We built stairs and a slide in our ~100 year old barn that used to store hay and straw! We have a tunnel, slide and ropes to play on! This is always free when we are open! Please supervise your children! Thanks!
Petting Zoo
You can buy a cup of feed and feed the goats! We have goats Alpaca's and Pumpkin the pony!
Always Free!
"Spooky by Nature"
In 2015 we added "spooky by nature" on Friday and Saturday nights in October only. For the price of an admission you get access to our free barn slide, our corn maze (spooky at night), a hayride (NOT to the pumpkin patch) and we have campfires for you to roast hotdogs, and marshmallows with s'more making materials that we have available for sale! (Or you can bring your own hotdogs and s'more materials.) Hours are 7-10 pm.
Cost is $10/age (13+) and $9/age (3-12) (under 3 is free).
Wheat Sensory Table
We have a free table that kids can play with wheat like it was sand! Please supervise your children to keep the play area clean!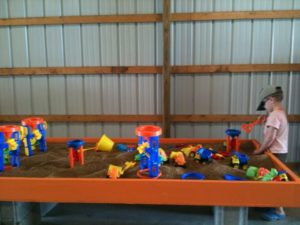 Barrel Rides
Barrel rides start the last weekend in September and run Saturday's and Sundays various times during our business hours.
Cost is $1/rider.