Overview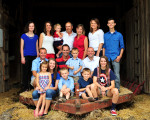 Goebel Farms is a 3rd generation family farm. We have been growing pumpkins for nearly 50 years and have been creating corn mazes for 16 years. Thousands of school children have come on field trips to Goebel Farms. Goebel farms is proud to give a portion or our proceeds to benefit local organizations and schools. During Spooky by Nature in October on a predetermined Friday or Saturday night from 7-10 p.m. 20% of admission fees from supporters who mention your school or organization will be given to your school or organization. All you have to do is pass the word along!
Family Fun Activity

"Spooky by Nature" refers to our nighttime hours in October on Friday and Saturday nights. We are open from 7-10 pm. for Spooky by Nature. We have campfires, a hayride, corn maze and our barn slide for kids and families to enjoy for the price of one *admission fee which is $10 age 12+, $9 age 3-11 and under 3 is free. Help bring families together by building memories and support your organization at the same time!
Details
To apply go to goebelfarms.com/giveback and fill out the online form. After your information is filled out Jenelle will contact you to confirm your time. Once booked, promote your night through fliers, e-mail, social media or however you'd like. Make sure to let your supporters know they must mention your organization for their sale to be counted toward the final giveback amount. Absolutely no fliers will be allowed to be distributed on Goebel Farms property. After your event, Goebel Farms will mail a check to your organization. In order to qualify your organization must be a 501(c)(3) tax exempt charitable organization. Please provide your organization's tax id number as well as address when booking your night.
*admission fee is only charged at night